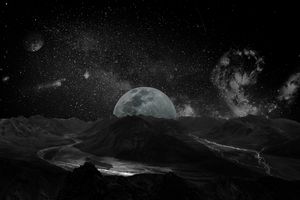 ABOUT
Astrobreed is an instrumental rock band composed of Voro Tur and Alfredo Peret. Formed in 2020, the band released its debut single 'Journey' in March 2021. Their style employs elements of classic rock, metal and post-rock music where engaging melodies, a powerful guitar-driven rhythmic base and the presence of synthesizers are prevalent. 
As longtime friends and collaborators, the duo is perfectly aligned. They have known each other since childhood and over the years they developed a personal connection that has become an essential part of their creative process and has a deep impact on their music.   
A professional musician with an extensive musical background, Voro joined the Spanish heavy rock band Enderrocks in 2006 which he alternated with other music projects. Alfredo joined Enderrocks as a guitarist in 2010. On their first music project together, they released a studio album and shared the regional stages until Alfredo's departure in 2012. During that time, the seed of what would eventually become Astrobreed was planted. 
Over time, the duo began writing music together which eventually led to the formation of Astrobreed in 2020. The band released their debut studio record 'Becoming Light' in 2022.